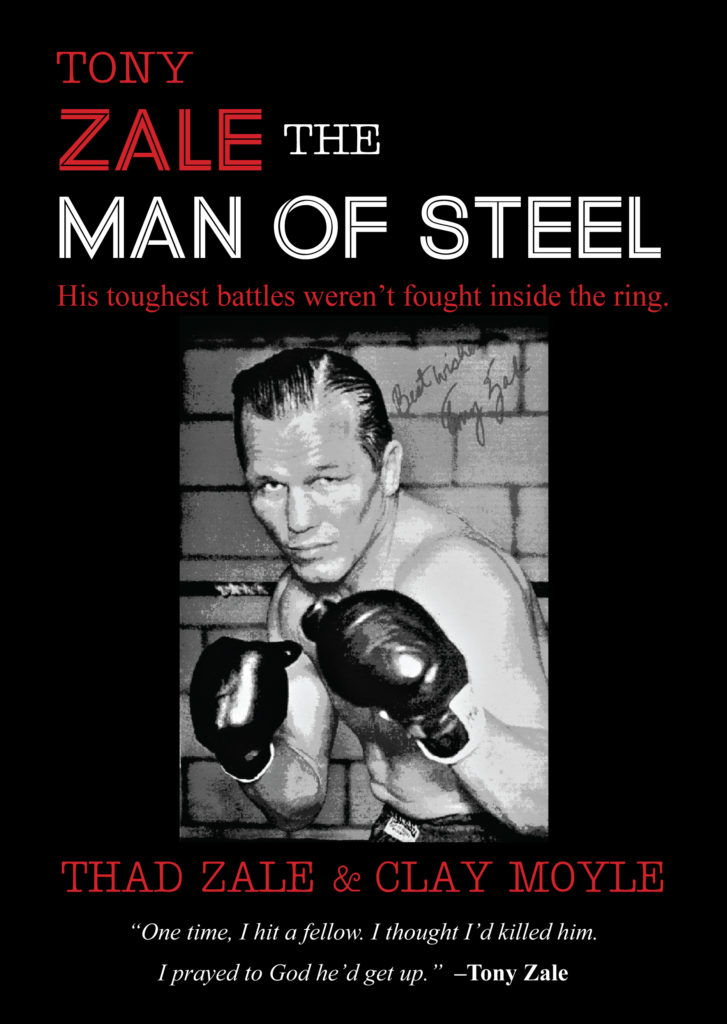 Tony Zale: The Man of Steel
by Thad Zale and Clay Moyle
In the 1940s, two-time world middleweight champion Tony Zale seemingly had it all. Battling colorful Rocky Graziano in The Ring magazine's Fights of the Year in 1946 and 1947, "The Man of Steel" from Gary, Indiana, convincingly defeated him in their third and final contest in 1948. These bouts are acknowledged as among the most exciting trilogies in boxing history. Tony had hosts of adoring fans and supportive family, was married to a beautiful and talented woman, and had two little girls whom he adored.
Becoming world champion was an amazing feat for this son of Polish immigrants. Feeling responsible for the accident which killed his father when Tony was two years old, he became a shy and withdrawn young boy. As a result of the boxing influence of his older brothers, however, he discovered a way out of his introversion and shyness by proving himself in the ring.
Once his professional boxing career had ended, Tony wound up financially with very little to show for all his pain and sacrifice endured in the ring. He suffered through a bitter divorce where he repeatedly attempted to gain custody of his daughters. This battle, along with a botched financial investment, devoured his life's savings and took him to an unexpected level of poverty. While all this drained him both mentally and physically, Tony never lost the Spirit within.
Thus, when everything seemed stacked against him, Tony dug himself out with the same kind of will, faith, and determination that had led him to become a world champion. Along the way, he touched the lives of countless young people, both as the head coach of the Chicago Catholic Youth Organization and Chicago Parks Department boxing programs. As a result, this soft-spoken champion became nearly as well-known and admired for his contributions to the lives of others as he had been for the remarkable courage and fortitude he exhibited during his boxing career. Tony Zale: The Man of Steel includes over 400 photos depicting his amazing life.
AUTHORS —- This is Tony's nephew Thad 'Ted' Zale's first publication. Co-author and boxing historian Clay Moyle has published two other works about early boxers Sam Langford and Billy Miske. A portion of this biography's proceeds will fund a scholarship in the name of Tony Zale through the Polish National Alliance in Chicago, Illinois.
An interesting article "New Tony Zale book expected to carry quite a punch" by Al Hamnik at nwi.com can be found here.
YouTube video on Tony Zale.
Billy C interviews the co-authors (Thad Zale & Clay Moyle) of the great new book, Tony Zale: The Man of Steel on the Talkin Boxing With Billy C TV & Radio Program on 01-20-2015. See it here on a YouTube video.
CONTACT THE AUTHOR
Questions or requests regarding any of the publications on this site?