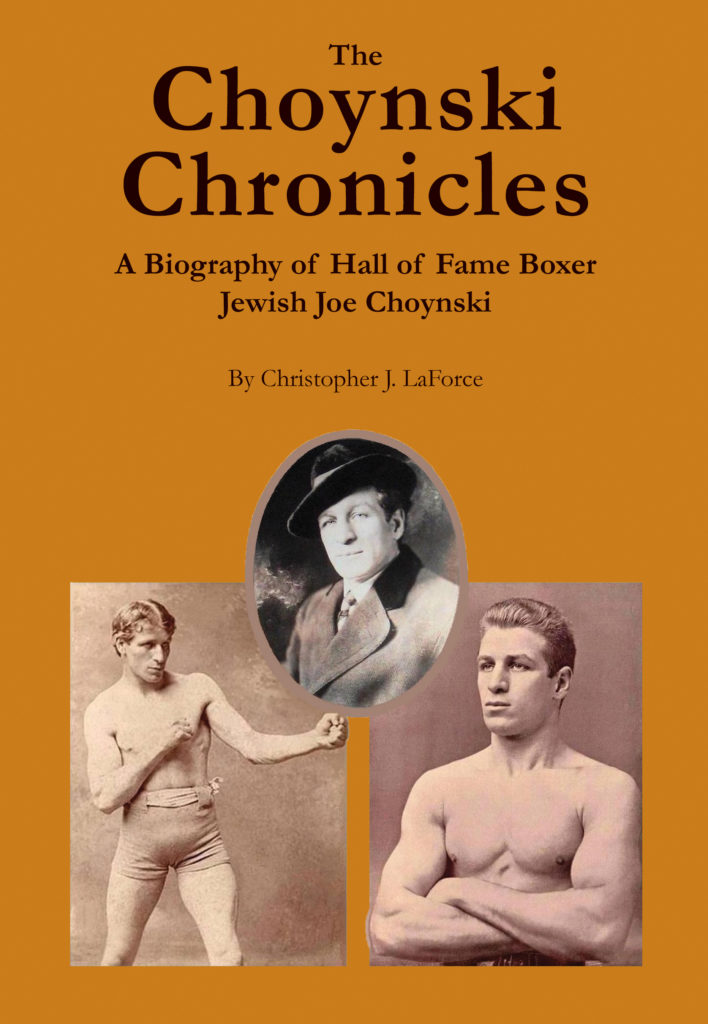 The Choynski Chronicles, A Biography of Hall of Fame Boxer Jewish Joe Choynski
by Christopher J. LaForce
In this first and only biography of light-heavyweight champion and boxing legend Joe Choynski, author Chris LaForce chronicles the life and career of a pioneer of the gloved era of pugilism. Joe Choynski was one of the greatest, most courageous, brilliant, and respected Jewish boxers in history. Born in San Francisco, California in 1868, Joe Choynski fought nearly all of the greatest heavyweights of that division's first Golden Age, despite weighing less than 170 pounds. He was one of the few who did not draw the color line. Included is a complete account of Joe's professional fights.
Come follow Choynski's boxing career in such legendary matches as the battle on the Sacramento River barge with "Gentleman" Jim Corbett, his war with Bob Fitzsimmons, the classic brawls with "Sailor" Tom Sharkey, knockout of future heavyweight champion Jack Johnson, and his 20-round draw with soon-to-be heavyweight king Jim Jeffries.
This book features over 180 photographs, many of them rare and published here, for the first time, anywhere!
The book includes a Foreword by Herbert G. Goldman, former Managing Editor of Ring magazine and Editor-in-Chief of Boxing Illustrated, and a testimonial by renowned boxing historian, Tracy Callis. Chris LaForce has been a member of IBRO (the International Boxing Research Organization) since 1984. He has written several articles for the IBRO newsletter, and is a contributing writer for the Cyber Boxing Zone, Western States Jewish History and other historical societies.
$44.95. Hardcover. 800 pages.
REVIEWS
---
---
Facebook page for Chris LaForce (will have to sign in to Facebook)
---
The Choynski Chronicles website by Gregory Speciale
---
Dan Rosenberg
From: policeunit214
Sent: Oct-20-14 11:44 AM
The Choynski Chronicles : Biography of Hall of Fame Boxer Joe Choynski, SIGNED!!
Item Id: 331326294614
Order Id: 331326294614-1047629904014
End time: Oct-12-14 14:33:36 PDT
Chris, I got your book and am especially appreciative of you having signed it. Having received and perused through the book, I am just astounded at the depth of your subject matter. I thought it would be a must have and now confirmed, no wonder I was being pushy in trying to procure this masterpiece from you. Thank you so much. I will treasure your book forever and will be among my few family heirlooms to be inherited by one of my worthy children.
---
See a promo of the book here.
---
Review by John J. Raspanti, Stockton Boxing Examiner on Examiner.com.
---
Review by John Rinaldi, The U.S.A. Boxing News.
CONTACT THE AUTHOR
Questions or requests regarding any of the publications on this site?