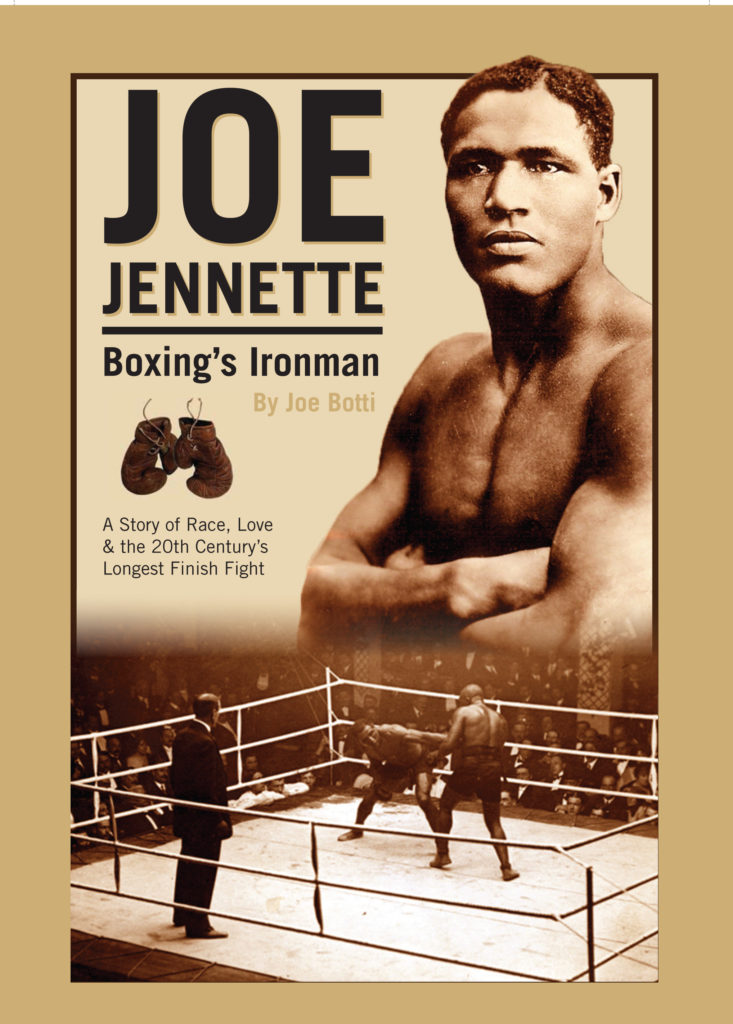 Joe Jennette: Boxing's Ironman
by Joe Botti
In this first and only biography of New Jersey heavyweight boxing contender Joe Jennette, author Joe Botti chronicles the life and career of this interracial athlete who competed in the longest boxing contest of the twentieth century. From 1904 to 1922, Jennette faced and defeated the most dangerous fighters of his era, including Jack Johnson, Sam Langford, and Sam McVea. Jennette was unable to secure a title shot due to the fact that the world was fixated with finding a Caucasian boxer to defeat Jack Johnson in the "great white hope" era. The story deals with the struggles of interracial romance, racism, and the world of boxing in the early twentieth century.
Joe Botti is the Founder and Head Coach of the Union City Boxing Club in Union City, N.J. A former amateur boxer, Botti has trained over 30 New Jersey Golden Glove champions and currently manages and trains professional and amateur boxers.
The 448-page hardcover book contains over one-hundred rare photos, many never before published.
An article on the book can be read here.
REVIEWS
One of the great, but slightly depressing things about reading a book like this is the stark realization of how little you actually know about the subject matter. Having read a decent chunk about Jack Johnson and Sam Langford I thought I had a decent grip on the career and abilities of Joe Jennette. On the back of reading Joe Botti's excellent biography on the man I have to admit I was wrong. Jennette emerges as a much better fighter than I ever imagined and a truly immense figure outside of the ring.
Botti makes the unusual decision to write the book from Joe's perspective and as if Joe is writing the book, which for a non ghost written book of a long dead fighter does take some getting used to. Early in the piece I frequently found myself asking how the author could have known what Jennette was thinking in a given situation. However you quick come to realise the sheer wealth of research Botti has done and that based on countless interviews with Joe's surviving relatives it is not that great a leap to assume to know Joe's opinions on his career.
As most of us will know, if Joe is known at all now it is as one of the triumvirate of fighters, along with McVea and Langford who Jack Johnson refused to fight as champion. What comes through is how the sense of optimism they all felt when Johnson won the title soon turned into frustration when it became apparent Johnson had no intention of giving them the opportunity Burns had given him. Before reading the book I had always assumed if anyone was likely to get a shot or topple Johnson it would be Langford, whilst this may still be true it is probably also true of Jennette whose form and true ability I was perhaps guilty of underestimating, even as a novice he had always pushed Johnson close and even held a win over him in his pre title days, with more experience and size on his shoulders who knows how a title shot may have gone.
Whilst Jennette may not have had Johnson's brash arrogance or Langford's ready way with a quip outside the ring is life is no less interesting. Joe was married for 50 years to a white woman, marrying in an era where not only was this frowned upon but was illegal in many states. When one considers the opportunities denied him in the ring and the prejudice Jennette endured outside the ring one could forgive him for being bitter or lashing out, Joe did nothing of the sort. The dignity he appears to have retained throughout his career speaks volumes of the man and does lead one to question how the history of the division could have been different had it been Jennette rather than Johnson who got first crack at the title.
One frequent criticism I have of boxing books is how quickly they skip through a fighters post boxing career and life. Botti is not guilty of this, Jennette went on to be a successful coach and businessman post boxing and Botti covers this in detail, whilst Joe may have never been afforded the opportunities his career in his life, his work with Georges Carpentier and Jimmy Braddock as a trainer will hopefully have provided him some satisfaction in his later life.
Overall I enjoyed this book enormously, as anyone who has read Unforgivable Blackness or the excellent Sam Langford biography this book is an essential and welcome companion piece. It contains a mass of rarely seen photos and a full ring record as should all boxing biographies. If someone could kindly complete the set and do a biography on Sam McVea now I would be most grateful.
– Paul Hindley
CONTACT THE AUTHOR
Questions or requests regarding any of the publications on this site?