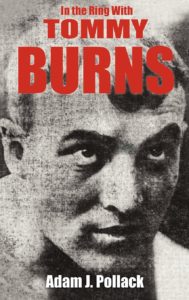 In the Ring With Tommy Burns
by Adam J. Pollack
In the Ring With Tommy Burns is the sixth book in Adam J. Pollack's heavyweight boxing champion series. It thoroughly and meticulously describes Tommy Burns' boxing career, using multiple local next-day primary sources to give the book an unparalleled accuracy and authenticity that has been the hallmark of the series. As always, Pollack offers round by round descriptions, pre- and post-fight analysis, bout preparation and negotiations, and provides context for the period, discussing opponents and what other contenders were doing at the time. By reviewing and experiencing Burns' career from the perspective of those who saw him box, one obtains far greater appreciation and respect for the skills and accomplishments of this underrated champion. The book includes 378 pages, over 100 photos, Burns' record, over 650 footnotes, and an index. 
REVIEWS
I'm not sure which of his books I like more but it's between Tommy Burns and Marvin Hart (I enjoy the more obscure aspects of the sport). … What an excellent reference piece. … [These books] are
essentially reference guides to the boxers' careers up to their final fight as champion using primary sources, and as such they are invaluable. I must say, I applaud his efforts and hope he continues. … If you are interested in boxing history, and, like me, prefer to rely on first-hand accounts rather than regurgitated myths you will do well to purchase this book (and his others).
– Steve Compton
---
Another Pollack Classic… The book is terrific …. In the Ring With Tommy Burns is another excellent addition to Mr. Pollack's exceptional series on the history of the heavyweight champions. His archival research brings this near forgotten champion back to life. Burns was a very interesting figure and a terrific fighter in his own right. He deserves far more than to be remembered as the man Johnson won the title from.
I strongly recommend this book to all fight fans. I predict all of Mr. Pollack's book will become highly sought after collectors' items in the years to come.
– Evan Grant
---
One of the great things about this series is the way it has shined light on some of the lesser-known champs like Hart or Burns. But even those whose lives and careers have been chronicled in many more traditional biographies have more detail revealed about their careers in these books than has ever been done before to my knowledge.
-Zac Daniels
---
Outstanding book. The sixth in Adam Pollack's wonderful series of books concerning heavyweight champions, beginning with John L. Sullivan, this work concerning the lesser-known Tommy Burns will no doubt hereafter be viewed as the definitive source considering the fighting skills and merit of the smallest of the 20th century heavyweight champions. As has been the case with each of Adam's books to-date this one on Burns is meticulously researched and it's difficult to imagine a more thorough analysis of the man's career as a professional boxer.
I was already fairly well aware of Burn's place in boxing history but gained a much greater appreciation for him as a fighter as a result of reading this book. I had always been under the impression that Burns did everything possible to avoid facing Jack Johnson. However, I am now convinced that Burns was never really all that reluctant to face Johnson and really only wanted to ensure that he received his desired asking price to face the man he believed represented the greatest challenge to his title. He should be applauded for his willingness to fight Johnson at a time when so many others would have hidden behind the color line. I also wasn't aware that Burns had defended the title as often as he did, making a total of 13 successful title defenses before ultimately losing to Johnson in December of 1908.
It really is quite remarkable that the 5'7″ Burns enjoyed as much success as he did. Many of the men that he defeated during his title reign outweighed him by 10-20 pounds and the fact of the matter was that Burns, who normally weighed in the 170s during his title reign, was really no more than a light-heavyweight.
I can't help but believe that anyone who reads this book will come away with a much greater appreciation of Tommy Burns as a fighter. Additionally, the reader will gain further insight into the fighting skills and styles of men like Jack "Twin" Sullivan, Hugo Kelly, "Philadelphia" Jack O'Brien, and many, many others.
I was also particularly interested to learn of the controversy concerning one of Tommy's fights with Jack O'Brien and the claim on the part of not only Burns and the fight's promoter that O'Brien would only make the fight if Burns would agree to throw it. I hadn't heard of that story before and the fact that James J. Jeffries then made a similar accusation concerning O'Brien only seemed to substantiate the charges.
I highly recommend the book and commend Adam for producing yet another outstanding resource and welcome addition to my boxing library.
– Clay Moyle
---
My enthusiasm and praise for Adam Pollack's series of books on the early heavyweight champions virtually knows no bounds. … I am going to review the latest in the series in the hope it will persuade anyone who has not yet dipped their toes in and bought any of these books to do so.
Anyone who has purchased any of the previous books in the series will know what to expect by now and the latest on Burns does not buck the trend or let standards slip. Each of his major fights is covered in exhaustive detail with round by round reports drawing on numerous first hand newspaper reports. What makes this book perhaps more interesting than some of its predecessors is the fact that in Burns we are dealing with a fighter for whom there is still decent footage remaining of many of the fights under analysis so comparison can be made between the footage we have and how the fights were reported in their immediate aftermath.
What I also found interesting in this book is Pollack's analysis of how the title picture in the wake of Jeffries retirement was dealt with, as I touched on in my Hart thread the other day it does appear confusion seems to have reigned with many refusing to acknowledge Hart as champion, many arguing the title should revert back to Fitzsimmons and some, oddly enough still acknowledging Jeffries as champion. Pollack does an admirable job of summarizing the attitudes at the time and also helping to make sense of the confusion giving the picture that Burns and to an extent Hart did seem to have suffered somewhat from the sheer dominance and esteem that typified the Jeffries reign.
As will come as a shock to nobody I am wholeheartedly recommending this book as I recommend the rest of the series and for those that are a fan of the series Adam has confirmed he is going to do the Johnson book which is obviously next in line which should be absolutely outstanding.
– Paul Hindley
---
This is the sixth book on the heavyweight champions in the well-known series from boxing writer Adam Pollack. Once again, Pollack does not disappoint in bringing the reader top shelf material with meticulous detail in recounting the historic career of Tommy Burns. Written utilizing first hand newspaper accounts of the day from those who witnessed Burns in the ring, the book provides authentic and accurate essentials for boxing historians and other interested parties. In addition to the blow by blow fight descriptions, Mr. Pollack also delves into fight analysis, Burns' opponents and the top ranked contenders of the day. The reader comes away with a great admiration and new found respect for the man Jack Johnson once condescendingly referred to as "Lil Tommy." Enhanced with many rare images and statistics this book is a must for the bookcase of every boxing memorabilia collector and anyone interested in boxing history.
– John Griffin
---
Adam J Pollack has set a standard in his books about the early Heavyweight Champions that is unlikely to be eclipsed any time soon when considering their thorough research, knowledge of the subject and historic recounting of the fights, the sportswriting and the build-up of the fights.
The Iowan author has self financed the publishing of books about the great John L Sullivan, James Corbett, Robert Fitzsimmons, James Jeffries, Marvin Hart, Tommy Burns, and now Jack Johnson. One hopes he keeps going.
These are not biographies. They are historical recounting of fights, and, to an extent, the lives these fighters were living. These were not men bearing resemblance of fighters of today. They were respectful, dignified, and well-spoken men.
The practice of drawing the color line, from the prism of modern times is odious. Yet, Pollack explains it so that one can impute it to the standards and pressures of the day. Fighters would not make nearly the money fighting men of color, and generally, many of them were more highly skilled than their white counterparts. And also, there was the fear of ostracization for doing so.
At the end of his book about Marvin Hart, Pollack tells the reader that Burns left a much more defining legacy than the man he lifted the title from. Marvin Hart. Hart is one of the most obscure linear champions, having defeated Jack Root, a non linear Champion himself to win the title.
Indeed, Burns was a strongly accomplished fighter, and defended his title thirteen times, being eclipsed by Joe Louis more than a quarter century later. Although a very small man next to Jeffries and Johnson, he was scientific, and fearless between the ropes. He never really captured the passion of the American sports public, yet understood his strengths, and limitations. He also understood his role as a world Champion, and went overseas to Europe and Australia to defend his title.
Perhaps his defining legacy was defending his title against a man of color. This left him an outcast when he returned to North America, yet he wanted to fight the best fighters of his era, and followed his convictions.
This book fills in many gaps in the lineal picture of historic Champions. Burns never will be seen as a great Champion, but neither should he be seen as a poor one. He was a fighting Champion, and a man of many skills and polish in the ring.
This is a book any boxing historian would hunger to read.
– Pugwash
---
Wonderful work of art. Buy it.
– Nathaniel Owens
---
CONTACT THE AUTHOR
Questions or requests regarding any of the publications on this site?