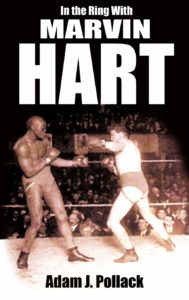 In the Ring With Marvin Hart
by Adam J. Pollack
Adam Pollack's 5th book is the first biography ever written on Marvin Hart, the forgotten heavyweight champion from the South. Hart gained popularity as a middleweight and light-heavyweight in the Louisville, Kentucky area before moving up to heavyweight and defeating the highly touted top contender Jack Johnson. Hart then won the vacant world's heavyweight championship in a fight to the finish against Jack Root. Like other books in Pollack's "In the Ring" series, this book is meticulously researched using next-day local primary source materials, and details Hart's boxing career. 
REVIEWS
Tracy Callis review for the Cyber Boxing Zone.
---
Thomas Hauser review for The Ring Magazine.
---
I thought now would be a fairly opportune moment to write a review of Adam Pollack's ongoing series on the early heavyweight champions. For those unfamiliar with these works Pollack has taken on the daunting task of writing biographies of the earliest heavyweight champions starting with the man widely accepted as being the first heavyweight champion of the gloved era, John L Sullivan and with the most recent in the series being the oft maligned Marvin Hart, with Tommy Burns arriving shortly.
Will come a shock to nobody who I have discussed these books with previously to know I am a massive fan of this series and I, again cannot praise highly enough the work Pollack has done. With the fighters under consideration there is little to no footage available so it is often easy for myths about their styles and abilities such as that Sullivan was nothing but a crude brawler or that Hart was a limited slugger who lucked his way into the heavyweight title. Pollack covers every fight in the fighter's career in forensic detail drawing on at least two or three newspaper reports of the time to cover all their major fights and exhibitions on a round by round basis. This allows you to develop a good understanding of the fights and also avoids drawing solely on local reports which can be written to favour the local favourite, giving you a far more rounded impression of what actually happened in the fights, something obviously invaluable when so little footage is available.
Pollack's writing style takes some getting used to as there is little of the things you are used to seeing in the normal biography such as information about their lifestyles outside the ring with the books focusing solely on their in ring action and training camps leading up to the fights, but as these are covered in such exhaustive detail this is something you are quickly ready to ignore and to be honest once you get used to his style you soon forget about this. However when there are out of ring controversies or points of interest that warrant covering such as how Hart came to earn his title shot or the controversy surrounding the Sharkey-Fitzsimmons fight these are covered in his usual detail and certainly for me the section on the Sharkey-Fitz controversy and subsequent court case ranks as one of the most enjoyable and insightful sections I have read in any boxing book.
It would seem churlish to criticize a series of books I have read and enjoyed quite as much but if I was to be critical the books are quite expensive weighing in at over £30 each. However for those with a passion for the history of the sport I would be confident in saying you will not regret spending this money and even this is mitigated by the fact the books are beautifully illustrated and presented with the high quality hard back covers giving the books a quality academic feel. Overall I cannot recommend these books highly enough but if anyone is interested in buying them I would heavily recommend you do so in order as the narratives frequently overlap so it makes sense to do so and will increase your enjoyment of the series.
– Paul Hindley
---
The Arturo Gatti of his day…
In the Ring With Marvin Hart is a terrific work that transforms a forgotten historical footnote back into the brawler he actually was … as in all of Mr. Pollack's series on the heavyweight champions, the book is filled with exceptional archival footage and photographs. This is a must have for all serious boxing fans … a forgotten era and many forgotten fighters are restored to life .. the extensive coverage of Hart's controversial victory over a prime Jack Johnson is worth the price of the book on it's own !!!
– H.E. Grant
---
An excellent book on this hard hitting forgotten champ who beat Jack Johnson
Terrific book on this unknown champion who beat the best of his time including Jack Johnson
– Stallone
---
Extremely informative
– John Martel
---
CONTACT THE AUTHOR
Questions or requests regarding any of the publications on this site?