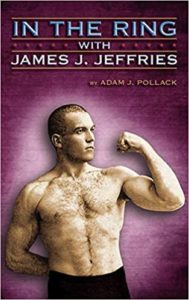 In the Ring With James J. Jeffries
by Adam J. Pollack
This is Adam Pollack's 4th book in his heavyweight champion series. It describes in meticulous detail James Jeffries' bouts from the 1890s up to 1905 (including round by round accounts as well as pre- and post-fight analysis), his opponents, and his training regimen. It discusses the time's heavyweight scene, including contenders, pre-fight hype and negotiations, political and legal obstacles, and the color line. Chapters also include descriptions and analysis of Corbett-Sharkey II, Fitzsimmons-Ruhlin, Fitz-Sharkey II, and Corbett-McCoy, as well as controversies surrounding several bouts. The book is based on next-day local newspaper accounts, comparing and contrasting their descriptions and analysis in order to provide an authentic view of how heavyweight boxing was perceived at the time. The use of local primary sources gives readers a rare opportunity to relive Jeffries' career as if they were reading about it at the time he was fighting. The book also includes Jeffries' career record, over 100 photos, 924 footnotes, and an index. 688 pages, hardcover, $42.95. 
REVIEWS
Tracy Callis review for the Cyber Boxing Zone.
---
Christopher LaForce review for the Cyber Boxing Zone.
---
An Outstanding Book on the great Jim Jeffries – Mr. Pollack has put together a detailed book on one of Boxing greatest and unfortunately, most forgotten heavyweight champion. After reading this book one comes away with a greater appreciation of Jeffries skill and toughness in the ring. You get a sense that he was every bit as good (in his prime) as Jack Johnson. This is a must have book for anyone who is interested in not only Jeffries but also the era in which Jeffries was champion. If you merely watch Ken Burns documentary on Jack Johnson Unforgivable Blackness you'll come away with an incomplete picture of Jeffries. Jeffries should have his own documentary.
Mr. Pollack details each of Jeffries championship fights. He covers the training, the odds, what the fighters said in the press to hype the fight and gives round by round, almost blow by blow account of what took place. I hope Mr Pollack will continue writing and bring his sharp analytical style to such fighters as Jack Johnson and Jack Dempsey. But until that time let me thank Mr. Pollack for writing this outstanding book and letting boxing fans appreciate the abilities of The Boilermaker James J. Jeffries!
– Michael A. Vogt – 2010-02-08
---
As the new millennium began, an Iowa attorney and boxing aficionado named Adam Pollack decided to write biographies of boxing's early gloved champions. In The Ring with James J. Jeffries is the fourth in that series, following biographies of John L. Sullivan, James J. Corbett and Bob Fitzsimmons.
In the Ring with James J. Jeffries takes readers from Jeffries' birth to his first retirement in 1905, when he was considered by many to be the greatest fighter of all time. Like Pollack's previous books, it follows a set formula. After reading thousands of contemporaneous newspaper and magazine articles, the author exhaustively reports on the build-up to each significant fight in his subject's career and the fight itself. …
Pollack's writing is constantly improving. The narrative flow of each new book is better than the one before.
Here, Jeffries' 1899 conquest of Bob Fitzsimmons to win the heavyweight crown is particularly well told, as is his successful 1900 title defense against James J. Corbett (the first time a former gloved champion sought to regain the crown).
– Thomas Hauser
---
In the Ring With James J. Jeffries, What a Book!!
This is the fourth book by Adam J. Pollack in his terrific series of the heavyweight boxing champions, and in my humble opinion, it is his best yet! The work comprises close to 700 pages and is jam-packed with little-known facts, anecdotes and fresh perspective on perhaps the greatest champion of them all, James J. Jeffries, "The California Grizzly." I believe it to be the most concise, comprehensive and simply the best account of this magnificent fighter's career in the ring. It is an absolutely indispensable addition to the boxing library of every historian and boxing fan alike. To say that I highly recommend it is a definite understatement! I just hope he continues his series on the heavyweights.
Had Jeffries not made his ill-advised one-fight, 1910 "comeback" after a six-year layoff, and lost to reigning champion, Jack Johnson, the general boxing aficionado would today have a much greater appreciation of this great champion, who had retired undefeated with the heavyweight title in 1904. Adam's account, however, illustrates just how incredible a fighter and athlete Jeffries, "The Boilermaker," truly was.
The volume is meticulously researched, drawing from hundreds of contemporary newspaper accounts. It also delineates "Jeff's" strengths, weaknesses and fighting style, as well as those of his opponents. Thorough and descriptive background is given, not only of the fighters involved, but also of the other participants, the arenas and cities. It is a nice slice of that era that is dished out, making one feel a part of the proceedings. Although as a fellow boxing historian I am a keen student of that same era, the "Victorian Age" and "Gaslight Era," I learned many new facts about Jim Jeffries that I had not known previously, but can say I was never bored in reading the book. All in all, this book, in my opinion, is a masterwork!
– Christopher J. LaForce – Member, International Boxing Research Organization
---
Most comprehensive analysis of Jeffries as a fighter you'll find
This is the fourth title in the series of books that Adam has written about the heavyweight champions beginning with John L. Sullivan, and I think it's his best one yet.
I just finished the book, and if you read like I often do, a little bit at a time before going to sleep at night, it will take you a while as this is also the longest of Adam's efforts, coming in at 666 pages, excluding the appendix. I have read all of the other books that have been written about Jeffries that I know of, and will say without hesitation that if you want to gain an appreciation of Jeffries as a fighter there is no book available that will enable you to accomplish that aim better than this one, nor can I imagine there ever will be. As usual, Adam provides us with numerous primary sources for each of his subjects fights, as well as for the events that took place before those bouts, and afterward. For many of Jeffries fights we are also given explicit details concerning the training regiment of both men.
The amount of detail that Adam includes concerning and surrounding Jeffries fights with Fitzsimmons, Corbett, Tom Sharkey, Gus Ruhlin, and Jack Munroe is simply phenomenal and one is left with a real appreciation of Jeffries attributes as a fighter. It's a shame that Jeffries took the stance that he did in 1904/1905 and he and Jack Johnson didn't meet when they were closer to one another's primes. As Adam points out at the end of the book, Jeffries was a mere shell of himself in 1910 when he returned to face Johnson after six years of inactivity. The damage suffered to his legacy as a result of that one-sided loss is obvious. At the time he retired in early 1905 he was undefeated and viewed as unbeatable. He very well was at that point in time. We'll never know because he chose not to face Johnson at that point in time, vowing never to risk the heavyweight title to a black man.
As I finished the book I stumbled across an article from a July 19, 1913 issue of The Mirror of Life and Boxing World in which Bob Fitzsimmons named Jeffries the world's greatest heavyweight. Fitzsimmons had fought and lost to both Jeffries and Johnson by then. I thought it was interesting that he said that "Jeffries at his best would have beaten Johnson in a couple of rounds, good as Johnson was." But the fact remains he didn't face him at his best, and we're left to wonder what would have happened if he had.
I highly recommend this book to anyone who wishes to learn more about Jeffries as a fighter. I can't help but think anyone who reads it will gain a much greater appreciation for him as a fighter. The sections concerning his fights with Fitzsimmons, Corbett, and Sharkey were of particular interest to me and I learned a lot about those fights that I didn't already know. There are many photographs sprinkled liberally throughout the book, and many of them were ones that I had never seen before.
– Clay Moyle
---
The last book on James J. Jeffries?
Adam Pollack produces books that make further biographies on his subjects very unlikely or at best, they will be of lesser standard. His books are so incredibly exhaustive that it would be difficult to find what more could be written about the boxer in question.
In this installment of his work on the heavyweight champions, Pollack produces a big book on James J. Jeffries, the man who (perhaps) is most remembered for getting beaten by Jack Johnson. This is not fair though as Jeffries was a great champion in his day and totally dominant in the sport.
In this book, we get the life story (up until his first retirement) of Jeffries and a comprehensive view of his fights. The author provides loads of material from the newspapers at the time and there are numerous quality photographs throughout the book.
It must have been so much work for Mr. Pollack, am most impressed.
– Peter
---
This book shows that we would relish more works by this author
I immensely enjoyed the book. It came at the subject from a different viewpoint. I enjoyed the fights.
And, yet, the book could have added several hundred more pages e.g. More of Jeffries' personal life. That's how I can tell I like a book. It was 630 pages long and I wish there was more. I'm considering other books by the author.
– Charles Allen
---
Great book! Didn't want the story to end, awesome!
– Donald Ankofski
---
Exceptional!
If you are a fight fan this is simply a must read body of work. It is as close to actually living in the era with legends such as Sullivan, Corbett, Fitzsimmons, Sharkey and of course Jeffries … it is an immediate boxing classic and I only hope Mr. Pollack is able to continue his series through Mr. Tunney … if it ends here he has done the sport a terrific service !
– H. E. Grant
---
Super book
– John Martel
---
Great book
– Michael Cannon
CONTACT THE AUTHOR
Questions or requests regarding any of the publications on this site?