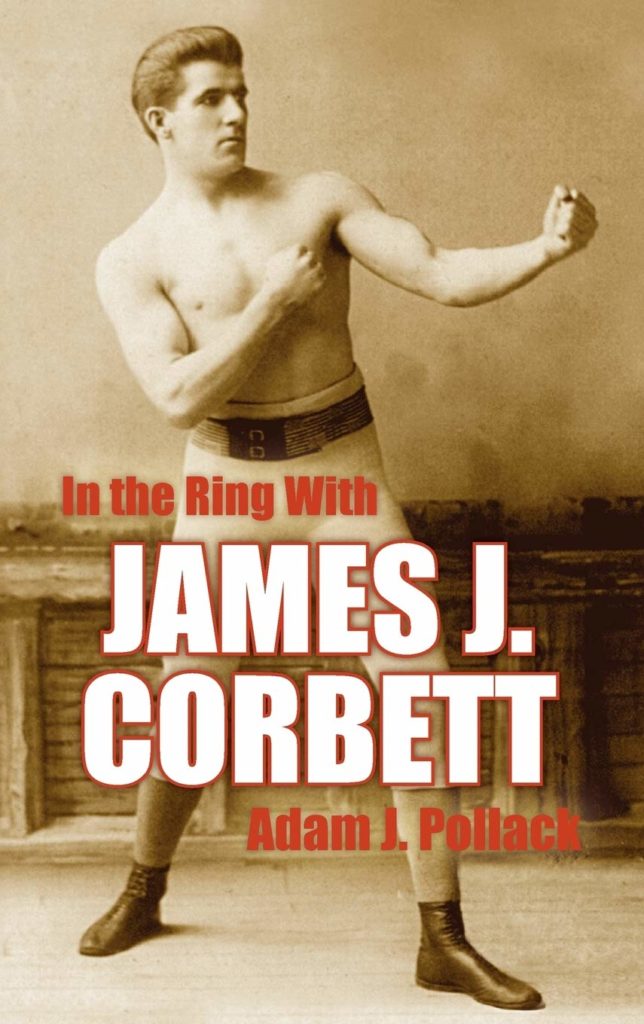 In the Ring With James J. Corbett
by Adam J. Pollack
This is the most thoroughly researched boxing-detailed biography of James J. Corbett's career ever written. It reveals new dates, bouts, and facts, shedding fresh light on his experience, skills, and ability. It meticulously describes his bouts and provides multiple viewpoints by local next day newspapers, giving it unparalleled authenticity and accuracy. The exhaustive research provides an encyclopedic wealth of knowledge about Corbett's boxing career. His bouts are placed into social, legal, racial, and historic contexts, including anti-prize fighting laws and the color line. A complete record of Corbett's career is included.
Price: $42.95
Hardcover: 53 photos, 813 footnotes, bibliography, index.
360 pages, 6″ x 9″, jacket-hardcover binding, black and white interior ink.
View a sample here.
REVIEWS
Old Subject but NEW (and great) Book
It really isn't until you get into Adam Pollack's new book on Corbett that you can answer for yourself the question that has first come to mind. "Why would anyone write another book on Jim Corbett?"
The answer is that if you write well and have the incredible tenacity it takes to sift through hundreds of newspaper accounts of any celebrity's life, you will likely produce a largely untold account of that life.
That is certainly what has happened here. To BCN readers, think Harry Shaffer's articles seen here from time to time. Actual newspaper quotes knitted together by the kind of narrative style that old Harry (nor moi) could ever master. What emerges is a fresh account of a fascinating figure. And the photos therein are also anything but ordinary.
Adam has now done Sullivan and Corbett and will be giving us Fitzsimmons next, then Jeffries. We can hardly wait.
– Don Scott, Boxing Collector's Newsletter
---
In The Ring With James Corbett is a book that has been written by an attorney. It's hard for me to advise you to do anything that might make an attorney richer, but I have to tell you that this book is worth the cover price and more.
What is most interesting is Adam's angle – it's about the boxing, and all the way to the hilt. This makes for a slow start, as Corbett, the most professional of amateurs, tours the country making a bit of sly cash under a pseudonym so as not to jeprodise his attachment to the Olympic sporting club, which sounds like a hell of a place. Even these earlier fights are treated with tender loving care by the writer and it is interesting to read the boxer's words regarding his early experiences.
"Early in my experience I used to be fond of parrying blows. I found that they would sometimes get through my guard in spite of everything. Then I began to rely upon my legs and eyesight. I found it a great deal better plan…"
This ties in with Adam's exhaustive post fight analysis of the Sullivan-Corbett duel and there is a real sense of the book "coming together" as you read. There is a complete picture of Corbett and no mistake.
Once the book lifts of, it's almost impossible to put down. Adam doesn't drop any sauce into his accounts of the great Corbett battles, he understands the drama exsists regardless and so we are treated to little opinion or speculation but we do get multiple sources for each round of the Corbett-Peter Jackson war of May, 1891.
The coverage is exhaustive and I can honestly say that I have a real sense of what occured in this fight with having ever being able to see it and that's a treat.
The Sullivan fight is treated as a near Holy thing with multiple sources (including The New Orleans Daily Picayune, The New Orleans Times-Democrat, Birminghan Age Herald, The New York Times, New York Herald and New York Sun) compressed into one thrilling account so thrilling it's the closest thing to watching the fight you could ever experience.
After this fight we run into the books limitations a little bit. There is nothing about how Corbett celebrated, what women he saw, what his family made of the events, how quickly he recovered (though he was at the "sparring" not long after)…pretty much none of that. To some that will be a relief, but I felt it was a shame. However, give Adam credit – he set out to write a book purely about boxing and that's what he's done, regardless of the temptation to do otherwise here.
And the book soon goes into overdrive again. Jackson had the sore end of his draw with Corbett but it was a draw, and Jackson was very much the #1 contender – now followed a fascinating rhetorical joust between Corbett's people, Jackson's people and the society of the day as to whether and where a fight between the two should take place. This part of the book – relevant because it concerns making a fight – is my favourite, with astonishing insights into the colour politics of the time through the windown of contempory accounts. Nowhere does Adam judge Corbett but nor does he duck "Gentleman Jim's" conduct in this matter.
I submit that the details concerning the attempts to make the failed Jackson fight are worth the price alone.
Although there is an inevitable sense of "those days were better" in the tone – inevitable because the writer has to descibe scenes like this one, where Corbett and Sullivan spar (long before their fight):
"…the boxers wore large gloves, their dinner outfits, including their vests, pants, shirtsleeves, collars and neckties, to the surprise of the spectators. They barely ruffled each other's hair over the 3 rounds…"
But nevertheless Adam keeps a very reasonable detatchment from proceedings, probably because his subject runs directly into the next one – Fitzimmons. That book will be a treat, I suspect, though the one i'm looking forward to most is Jeffries.
So just tell yourself that Adam Pollack is most likely a human rights lawyer of some sort and order the book.
– McGrain, East Side Boxing forum
---
I had the pleasure of reading an advanced copy of Adam's new book and I can assure you that it is quite worth the price of admission. Like Adam's work on Sullivan, In the Ring With James J. Corbett is a highly detailed, well written, and well researched work. I am a big fan of primary sources and this book supplies them in detail, using them to craft a thoroughly accurate and objective look at Corbett's fighting career, his machinations and his business acumen. Adam remains objective in his prose, giving several sides to each fight, each story. In my opinion, Adam's series on the heavyweight champions is the most exhaustively comprehensive group of works available on the fighting lives of these very public and very important social figures. If you want to know about Jim Corbett's career as a fighter, you need not look any further than In the Ring With James J. Corbett.
– Kevin Smith, author of Black Genesis and The Sundowners
---
Boxing historian Adam Pollack has produced the definitive work on the boxing life of James J. Corbett. No other book in existence can compare to the fine and rich details of Corbett's bouts, his training, and fight to the finish Queensberry bouts common for major bouts during Jim's time. Mr. Pollack has continued to set the standard that, at least this writer wishes, could be done for all important boxers, as he previously has for John L. Sullivan. He is a wonder.
– Michael Hunnicutt, International Boxing Research Organization (IBRO)
---
"I am VERY impressed. This is a scholarly work worthy of any boxing library. Adam Pollack has done an amazing job with the research and does a good job showing the backgrounds behind the fights and doing as good a job as possible recreating the fights themselves… He has to use eyewitness accounts and newspaper excerpts to recreate the fights and does a very good job with this. I found the descriptions of Corbett's involvement with Joe Choynski particularly fascinating. … The title indicates that the book deals with the ring life of Corbett and it most certainly achieves that."
– Jason Simons, Boxingscene.com
---
This was a great book, I felt as if I was there!
– Donald Ankofski
---
The Definitive Corbett book. Pollack's research is intense. You learn so much bout the fighter's career, more than one might imagine. Another A plus work by Mr. Pollack.
– H. E. Grant
---
CONTACT THE AUTHOR
Questions or requests regarding any of the publications on this site?