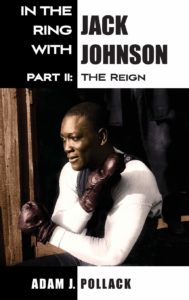 In the Ring With Jack Johnson - Part II: The Reign
by Adam J. Pollack
In the Ring With Jack Johnson – Part II: The Reign by Adam J. Pollack continues the series of the most detailed and thorough books ever written on Jack Johnson. This 880-page book completely covers Jack Johnson's reign and life as world heavyweight champion.
As with Part I: The Rise, by utilizing multiple primary-sources, Part II: The Reign enables the reader to experience Jack Johnson's life, both inside and outside the ring, and the world in which he lived. Both black and white-owned newspapers offer their plethora of perspectives on race and boxing. The book includes pre-fight hype and analysis, negotiations, training, the fights, post-fight analysis, what other boxers were doing, racial incidents and riots, analysis of the significant racial impact of Johnson's achievements, legal impediments, religious and racial objections, and the details of Johnson's many legal struggles, including a chapter covering his criminal trial for violation of the White-Slave Traffic Act, otherwise known as the Mann Act, using the actual trial transcript. The book also is chock-full of nearly 400 rare photographs, cartoons, and advertisements. Boxing fans and historians will obtain knowledge and insight into Jack Johnson's life, career, and world like never before.
Roosevelt Mitchell III on www.brothersonsports.com interviews author Adam Pollack about the book.
Listen to the interview Adam Pollack: Jack Johnson biographer here from the Ringside Boxing Show.
REVIEWS
Review at Boxing.com by Cheekay Brandon.
---
In the Ring With Jack Johnson – Part II is possibly the most well researched and informative book I have ever read on any athlete. Johnson's story is the story of American's racial history from reconstruction to Jackie Robinson. This deeply complex and misunderstood man, in many ways forgotten, remains a very import part of American history and Pollack covers his highs and lows in terrific detail. This is a can't miss work for boxing fans, sports fans and students of American history .. absolutely terrific.
– H. E. Grant
---
Great books
I've had the pleasure of reading both part 1 and 2 of the Jack Johnson books. Great work, detailed, and puts you right there in the early 1900's. If you love boxing and history, you will truly enjoy the Jack Johnson story. I can't wait to get Mr. Pollack' next book.
– Edward Hernandez
---
Adam J. Pollack books are amazing. Part I and II is the best biography ever written about Jack Johnson. Adam is one of the best boxing writers today.
– Nathaniel  Owens
---
Amazing book
An amazing in depth book of an incredible human being, packed with rare info and images. If you own volume one then you need to own this!
– Lee Harraway
---
Best book on Johnson's boxing career
A brilliantly written book drawing from a wealth of sources. The only book that deals with Johnson's boxing career in detail up until he lost the title.
– D. M. Bryant
---
A wonderful and well researched book on the life and career of Jack Johnson the first Black Heavyweight Boxing Champion.
– Jimmy B
CONTACT THE AUTHOR
Questions or requests regarding any of the publications on this site?