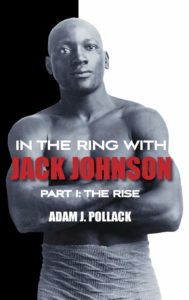 In the Ring With Jack Johnson - Part I: The Rise
by Adam J. Pollack
At 710 pages, In the Ring With Jack Johnson – Part I: The Rise is the most detailed and thorough book ever written on Jack Johnson. This book alone (the first of two on Johnson) covers the start of Jack Johnson's career up to his winning the world heavyweight championship. It is chock-full of detailed descriptions of each bout from multiple local next-day primary sources. The book also contains plenty of context and background, details and perspectives about race from both white and black-owned newspapers, as well as approximately 225 rare photographs, cartoons, and advertisements. Boxing fans will obtain knowledge and insight into Jack Johnson's life and career like never before.
$39.95. Hardcover.
REVIEWS
Cheekay Brandon review for Boxing.com.
---
Reviews by John J. Raspanti at maxboxing.com and examiner.com.
---
The Boxing Glove book review by Peter Silkov.
---
Review by John and Alex Rinaldi, The U.S.A. Boxing News.
---
Perfect!
As expected, Adam Pollack has delivered a boxing tome as effective and as accurate as a Johnson uppercut. First, look at the cover.. half black and half white with Johnson standing on the color line with arms folded. Very compelling.
What I find most fascinating about this book is that Pollack intersperses various news accounts of lynching, riots, racial disharmony and prejudice in-between accounts of Johnson's bouts. This allows the reader to have a sense of what the world was like during Johnson's time as a boxer.
Pollack also analyzes each bout. He provides various and sometimes conflicting views that were published at the time of the fights and after the fights concluded.
Johnson often had to decide whether it was better to fight cautiously and win on points versus dominating a fight and perhaps scaring of contenders for future bouts. It also becomes apparent that Johnson improved steadily from early in his career until he reached his prime. He aged like a fine wine.
This book is a must have for your personal library. As I read it, I felt transported back to those times, to a world so different from our own. No 24 hour sports channels, no cell phone, you tube or even radio. You were either at the bout or you read about it.
Thank you Mr. Pollack for another great book and I am looking forward to the next edition.
– Michael A. Vogt
---
Refreshingly Objective
An excellent work–the best boxing book I have read in many years. Adam's approach has always been good, but Johnson has always been such an enigma that his style in this case, works remarkably well for fleshing out the bull. I have read every book ever written on Johnson(even involved in the Unforgivable Blackness project), watched every documentary, read hundreds of fight reports and newspaper stories on him and I can honestly say that this book has given me a new appreciation for the man. And for the first time I feel like I have true grip on his fighting career and just how good this guy was–not to mention the enormous courage and self confidence he had. Again, this is not a re-hash of everything your have already read on Johnson—it is a fresh, inspired effort that deals in facts and facts alone. Great job Adam. I personally thank you for this volume and state emphatically that it is a must have addition to any boxing fan, or historian's, library.
– Kevin R. Smith
---
Another outstanding entry in Pollack's series of Boxing Biographies
'In the Ring with Jack Johnson Part I: the Rise' is the seventh entry in an outstanding series of books by Adam Pollack, each focusing upon the boxing career of a heavyweight champion — Pollack's previous books have had, as their subjects, John L. Sullivan, Jim Corbett, Bob Fitzsimmons, James J. Jeffries, Marvin Hart, and Tommy Burns. All these boxing biographies are exhaustively researched, relying primarily upon first hand accounts when reporting the boxers contests; Pollack also does a good job of digging up photographs and illustrations contemporaneous with his subjects.
The previous entrees have covered the boxers careers from beginning up to the point they lost — or, in Jeffries case, relinquished — their heavyweight titles. (Pollack does try to cover historically post-championship bouts of his subjects in subsequent books of the series). 'In the Ring with Jack Johnson Part I' — due no doubt to the mass of information Pollack has uncovered — departs from this structure slightly, covering Johnsons career from start to the immediate aftermath of his winning the title from Tommy Burns. Even so, the book runs to over 700 pages. (Needless to say, I eagerly await the release of 'In the Ring with Jack Johnson Part 2: the Reign').
Pollack's books are boxing biographies. Their particular focus is the boxing contests, with a great deal of coverage as well given to match-making and the boxers preparations. Pollack also (in all of his books) gives coverage to social and legal factors influencing (often heavily) the boxers careers. Pollack is an ideal writer on the subject of the legalities of boxing, as he is a professional lawyer who is also significantly involved with organized boxing. Pollack is also knowledgeable regarding the social and — particularly, but not exclusively, relevant to his 'Johnson' entrees — racial attitudes of the time, both internationally, nationally to the United States, regionally within the USA, and also within the broad sporting community (boxers, trainers and managers, promoters, and journalists).
As a boxer, Jack Johnson was, and to some extent remains, an enigmatic figure. It's a generalization to say that he tended to be safety first, and sometimes seemed to do just about enough to win and to discourage his opponents from getting frisky; but there was sometimes justice in this view. He didn't always perform in a crowd pleasing manner, sometimes didn't seem to be exerting himself, and also was a fellow who was very difficult to look good against — that last sometimes being interpreted to Johnson's disadvantage (i.e., people thought Johnson won because the other boxer was undistinguished, rather than holding that Johnson was so good he made other fighters look ineffectual). It was hard to gauge Johnson: once he'd matured as a fighter he rarely if ever seemed pressed to his limits, so it was hard to say just what those limits were.
Granted that Johnson had a manner of fighting which tended to shroud is exact abilities, Pollack gives us as much information as to Johnson's (and his opponents) performances as we're liable to have at this time, and is sometimes as probing regarding Johnson's journalistic exponents and naysayers as he is regarding the fighters themselves.
It seems to me that, around 1907, Johnson began to fight in a way that was more active yet still defensively secure. Notable white contenders, such as Al Kaufmann and Bill Squires, who might have done much to build (Kaufmann) or restore (Squires) a reputation by besting Johnson, were conspicuously averse to any talk of meeting Jack. Sports media began to relent a bit from talk of Johnson having a yellow streak. The book ends with Johnson's preeminence among contemporary heavyweights generally acknowledged, those having viewed his controlled, secure and steady dismantling of champion Tommy Burns having difficulty imagining any active boxer wresting the title from Johnson.
– Robert P. Lancaster
---
This is highly recommended for sports fans of all kinds
Mr. Pollack does an outstanding job on this deeply researched volume on the early career years of heavyweight legend Jack Johnson. For those familiar with the author's previous works, you can expect the now customary top of the line job and then some. For those who have not as of yet sampled any of Mr. Pollack's work, you are in for a treat. There is not a more detailed, interesting portrait of a prizefighter and historical figure than Pollack's Johnson. As with all his work, this is highly recommended for sports fans of all kinds.
– H.E. Grant
---
Great read
It never really seemed like 700 pages because it moved so rapidly. I now feel like I am an expert on Jack Johnson thanks to the incredible attention to detail in this outstanding book. Well worth the money.
– Ted Sares
---
An epic account regarding the most important athlete ever
This beautifully produced 710 page tomb takes the reader on a social, racial and cultural journey regarding the climate that surrounds the book's subject, Jack Johnson, through to the start of his historical championship win in Sydney, Australia in 1908. For me, Jack Johnson is THE most important athlete that has existed bar none, for the impact he made not just in boxing, but in a world of extreme racial discrimination and hatred. As brave as Jack was in the ring, he was a lot more brave out of it when you consider that in the era of early twentieth century America, black people were lynched just for being black in the wrong place at the wrong time.
Using a vast array of primary newspaper sources as well as a good selection of secondary ones, the author illuminates an important racial and social background to help contextualize the period when Jack Johnson became the foremost black citizen on earth.
Most people reading the reviews on this page for Adam Pollack's epic account on Johnson will already be familiar with a lot of the struggles that Jack endured. But this excellent biography gives huge detail – there are 1039 references throughout – which facilitates taking the reader into that bygone era when gloved boxing was still in its infancy. It is a book that I personally loved to return to after each chapter to pick up from where I left off.
Johnson's fights, as would be expected in a book of this volume, have an amazing amount of detail as does the characters that surround the life of the subject. Included are many photos and illustrations that are well chosen, and some that I personally hadn't seen before despite owning several books on Jack. The photos and illustrations are placed throughout the book rather than in a section by themselves.
The work that went into writing this, the first part of Jack Johnson's story, was immense, and I very much enjoyed spending time reading it. I certainly will be purchasing Part 2: The Reign.
– Peter J. Chambers
---
Another great book in an excellent series
As anyone who has read any of the previous books in this series will know Pollack makes a conscious decision not to feature greatly about the subjects personal lives, focusing almost exclusively on their training and actual fights.
Whilst this stylistic choice was never going to be a huge issue when writing about Marvin Hart or Bob Fitzsimmons I did worry that if such an approach was utilized in regard to Johnson there was going to be gaps in the telling of his story, because as the first black heavyweight champion Johnson has simply too much historical and social significance for his impact outside the ring to be ignored.
I am pleased to say these fears were largely unfounded. Pollack has to my mind got the balance just right, he avoids the stories of his bedroom affairs that have often blighted previous works on Johnson but has done a stellar job in both highlighting the obstacles Johnson had to overcome to secure his shot at the title (a good five years after he deserved it) and in evoking the racism that was pretty much endemic in society at the time. Reading some of the newspaper reports that would criticize Johnson for his defensive approach to the game, only to then applaud other fighters for adopting such an approach is comical in its bias. Pollack's day job is as an attorney and this clearly comes through in the book, he has an excellent grasp on the legal developments of the nascent civil rights movement and the transition out of slavery towards emancipation and does excellently well in contextualizing Johnson's place in this era.
Part one has certainly done a cracking job of convincing me just how good Johnson was, and had to be, in his pre title days so I am fascinated to see Pollack's take on his title reign, which I personally have been critical of in the past. This book is highly recommended.
– Rowley
---
The Bench Mark!
Adam Pollack has once again delivered!
This book is crammed with facts from multi-referenced sources. All anyone wants to know about Johnson's climb to the title is here. Highly recommended.
– Hemingway
---
A wonderful and well researched book on the life and career of Jack Johnson the first Black Heavyweight Boxing Champion.
– Jimmy B
---
Awesome book!
– Sagaciousbee
CONTACT THE AUTHOR
Questions or requests regarding any of the publications on this site?