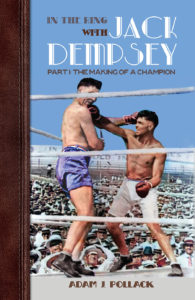 In the Ring With Jack Dempsey – Part I: The Making of a Champion
By Adam J. Pollack
In the Ring With Jack Dempsey – Part I: The Making of a Champion is the most thorough and detailed book ever written about former world heavyweight champion Jack Dempsey. This book (the first of two) chronicles Dempsey's life and career from its start up to his winning the world heavyweight championship, fight by fight, as told by those who saw the contests and reported on them at the time, utilizing multiple local next-day newspaper reports. This includes training, predictions, pre-fight hype, and discussions about the opponents.
As with other books in the In the Ring series, this book also discusses the context of the times, the color line and race in boxing and society (offering the perspectives of both white and black-owned newspapers), World War I, Dempsey's personal and managerial choices, and how these topics affected the sport and Dempsey's life and career. Even new facts about the controversial Jim Flynn fight are revealed. Boxing fans will obtain knowledge and insight into Jack Dempsey's life and career like never before.
560 pages, with over 550 rare photos, illustrations, cartoons, and fight advertisements.
Adam J. Pollack's In the Ring With series on the heavyweight champions of the gloved era also includes books on John L. Sullivan, James J. Corbett, Bob Fitzsimmons, James J. Jeffries, Marvin Hart, Tommy Burns, and Jack Johnson.
REVIEWS
Listen to the interview with Adam J. Pollack conducted by Ismael Abdusalaam for BeatsBoxingMayhem.com
---
Click this link to read Thomas Hauser's review for The Sweet Science
---
Click this link to read John J. Raspanti's review for Max Boxing
---
A tremendous achievement
Mr. Pollack's In The Ring series are the definitive boxing reference books in existence on their subjects. In this book on Jack Dempsey Mr. Pollack may well have surpassed even his comprehensive previous volumes which are known for tremendous fact finding. Previously, large parts of Dempsey's pre championship bouts were thought to have been lost to history. This now is no longer the case! Nearly every bout of Dempsey's career has been unearthed by Mr. Pollack bringing a wealth of new found information and appreciation of the incredible Jack Dempsey. Go on a wild ride with the Colorado mountain lion culminating in a climatic showdown with the tough hewn cowboy giant made of rawhide, champion Jess Willard. You will not be disappointed, at all.
– Michael Hunnicutt
---
Another amazing volume
Adam is an amazing author. His expertise in the boxing realm is unsurpassed. The prose brings to life each combatant and elucidates what made them great. I look forward to each volume in this fantastic series.
– William Monacci
---
Another KO
Marvellous book on Jack Dempsey's road to the worlds heavyweight title vs Jess Willard. Thoroughly researched. Tons of information.
– Mr. M. Dawson
---
An Instant Classic: Pollack does it again.
Adam Pollack continues his unique, ground-breaking body of work on the sport of boxing with this outstanding first volume (1 of 2) on ring immortal Jack Dempsey. Pollack provides never-before-compiled, exceptional archival information on the rise of The Manassa Mauler. The book is filed with detailed golden nuggets about the man and his early rise from obscurity through his title-winning bout with Willard. The book is a must for fight fans, Dempsey fans, and sports fans. Cannot wait for Vol. 2.
– H. E. Grant
---
Great Detail
Pollack conveys a real sense of being there. The detail around the training camps and actual fights is amazing. A must have for the serious boxing fan.
– Francis Moylan
---
The book was excellent can't wait for part two next day was brilliant as usual
– Michael A. Keyes
---
It's not a biography, it's a Jack Dempsey encyclopedia
Just a ton of information here. Gives new meaning to everything but the kitchen sink. Pollack throws that in, too.
5 out of 5 stars
– Sean
---
Thoroughly Researched bio on one of the All time great fighters
This has got to be the most thoroughly and thoughtfully researched bios on any fighter, but especially Jack Dempsey. I can't wait for Part II.
– R. L. Stecher
---
It's not a biography, it's a Jack Dempsey encyclopedia (5 out of 5 stars)
Just a ton of information here. Gives new meaning to everything but the kitchen sink. Pollack throws that in, too.
– Amazon customer verified purchase
---
Knockout
Possibly the greatest book ever written on Dempsey.
– Amazon customer verified purchase
---
A Fantastic Start to a [Three Part] Series
If you've never read a boxing book by Adam J. Pollack, you are missing out! Adam is one of the best writers and researchers of boxing history living today. His work, especially with fighters from over a century ago is important to folks like me who want to know more about where the sport came from.
In the Ring with Jack Dempsey, Part I: The Making of a Champion is the first in a series of [three] books on one of histories greatest fighters. Dempsey has been the subject of many works before but Pollack, has really started what I believe will be the definitive work. It's a leave no stone unturned style that I enjoy. The books size might frighten some but trust me, it's worth it. This is the complete life of Dempsey with a non-bias spin. You get it all.
What I found most interesting is the really early life of Dempsey as I wasn't as familiar with that history as the latter material. He really fought in a different age compared to guys just thirty years later. There is a twist that really stunned me, but I will leave that for the reader to discover. Let's just say it deals with his first wife.
The writing is clear, the approach is professional, and I think this series will end up being the definitive work on the subject as the author did with Jack Johnson. I'm looking forward to part II. Also, my great-grandfather knew Dempsey so it's neat to have a family connection.
– Vincent T. Ciaramella
CONTACT THE AUTHOR
Questions or requests regarding any of the publications on this site?