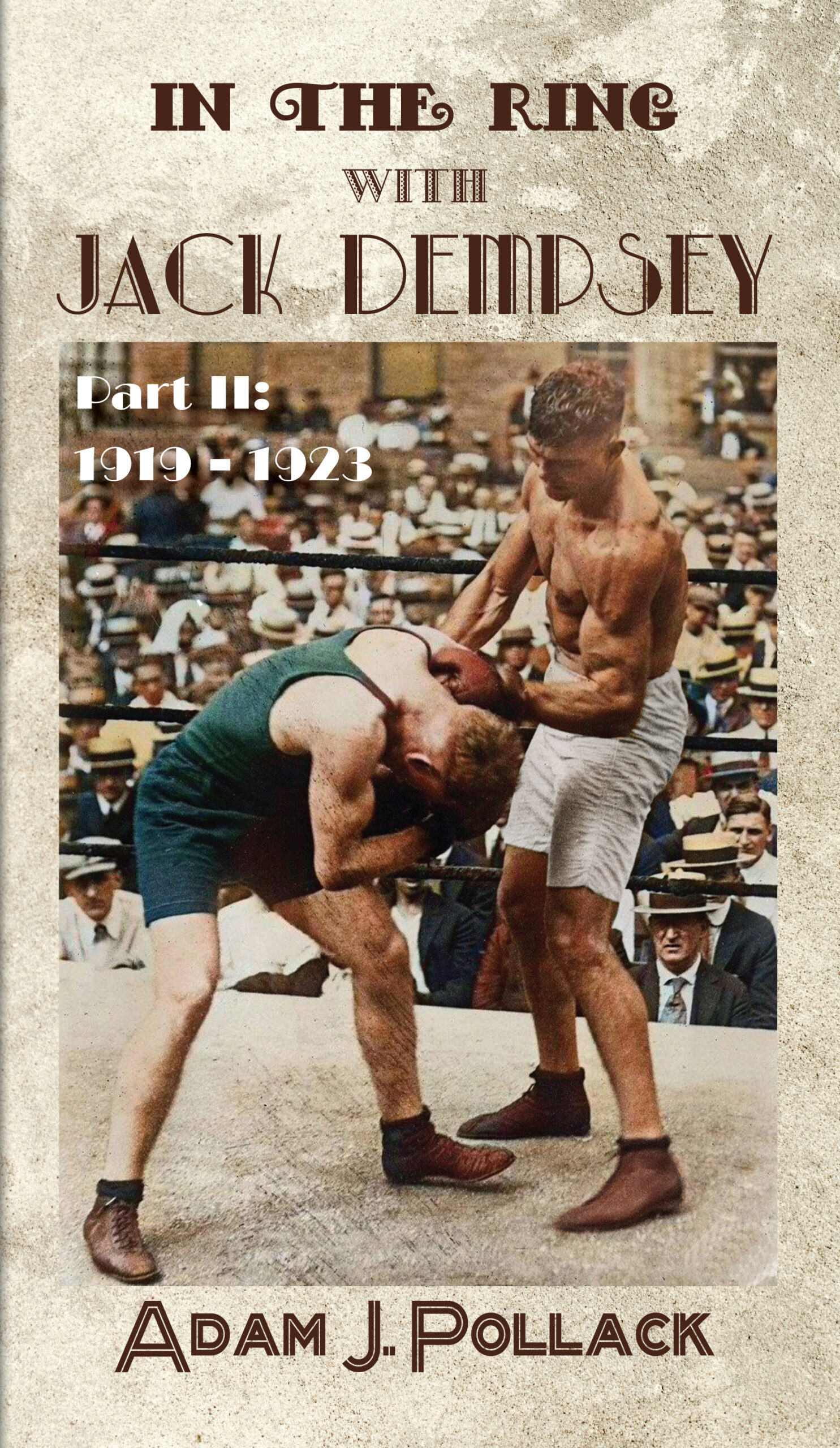 In the Ring With Jack Dempsey - Part II: 1919 - 1923
By Adam J. Pollack
In the Ring With Jack Dempsey – Part II: 1919 – 1923, contains descriptions of Jack Dempsey's successful title defenses (including pre-fight hype, training and sparring, predictions, pre- and post-fight analysis); discussion of his opponents and their careers (Billy Miske, Bill Brennan, Georges Carpentier, Tom Gibbons, and Luis Firpo); economics and negotiations; controversies; legal, political, and racial obstacles; Harry Wills and the color line; Harry Greb, Gene Tunney, Jack Kearns, Tex Rickard and boxing's first million-dollar gate(s); criminal and civil cases; Dempsey's personal life, and much more. Hundreds of rare photos are included. 819 pages in this book alone, based on primary sources, continuing the three-part series of the most thorough books ever written on Jack Dempsey's life and career.
Adam J. Pollack's In the Ring With series on the heavyweight champions of the gloved era also includes books on John L. Sullivan, James J. Corbett, Bob Fitzsimmons, James J. Jeffries, Marvin Hart, Tommy Burns, and Jack Johnson.
REVIEWS
Unparalleled boxing documentarian
Another amazing book from Adam. The detail is incredible. I have enjoyed all his books. Well worth the money. I can't wait for his next effort. Clearly this man is passionate about the sport and the lives that have brought it to life. Boxing enthusiasts are fortunate.
– William Monacci
---
Another A Plus Job by the Boxing Historian of Our Time
Where do I begin but to say I devoured this mammoth, detail rich book and was blown away by the exceptional detail , information and abundance of photographs. Pollack is simply his own category of archivist/historian/author and this book joins his others outstanding works on Sullivan, Corbett, Fitzsimmons, Jeffries, Johnson and others as classics that will last for the next century.
-H.E. Grant
---
Brilliant book as all Adam J. Pollack books are. Detail is amazing, very well researched.
– Dennis Fearn
---
Knockout
These are essential works on Jack Dempsey. Information by the tons yet again. The Firpo coverage was most interesting.
Excellent
– MR. M. DAWSON
---
OUTSTANDING BOOK. LOTS OF GREAT PHOTOS AND INFO.
– Rudy V. Rodriguez
CONTACT THE AUTHOR
Questions or requests regarding any of the publications on this site?