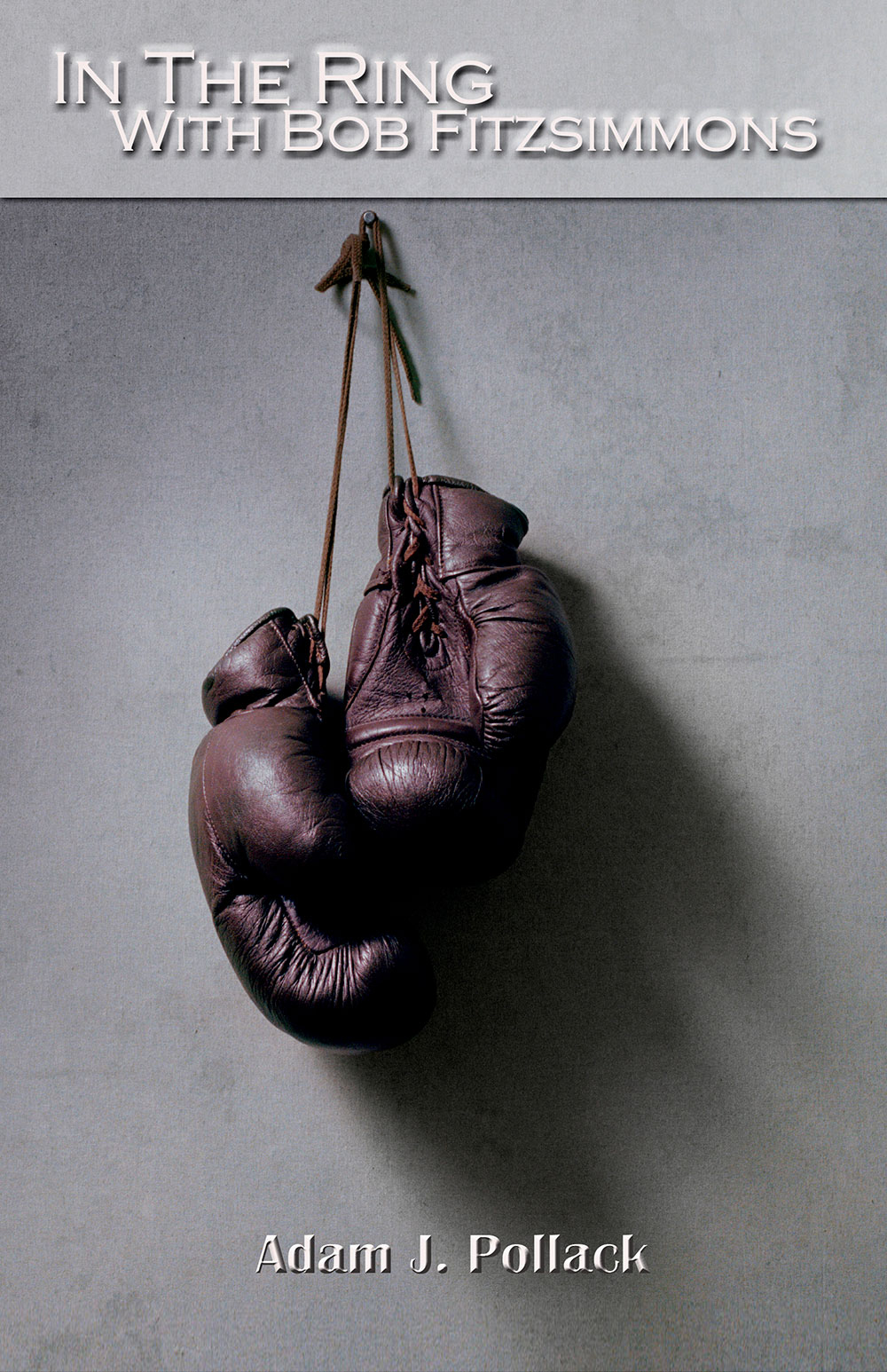 In The Ring With Bob Fitzsimmons
by Adam J. Pollack
This is the third book in Adam Pollack's series on the heavyweight champions of the gloved era. Bob Fitzsimmons was boxing's first pound for pound great, winning the world middleweight title before becoming the world heavyweight champion (and later lightheavyweight champ). Combining both crafty skill and crushing power, Fitzsimmons was able to knock out heavyweights when he only weighed 158 pounds!
This meticulous and tremendously researched book uses multiple local primary sources from New Zealand, Australia, and America to chronicle Fitzsimmons' boxing career. It contains detailed fight descriptions never before revealed, round by round reports, pre- and post-fight analysis, daily training regimens, critical analysis of opponents' careers, discussion of skills, techniques, strategies, strengths, and weaknesses, and explains how legal, political, social, and economic issues affected and impeded fights.
The book also includes stories of fixed fights, conspiracies, legal battles, trials, threats of violence and imprisonment made by governors, judges, and militiamen, and verbal jousting, taunting, boasting, and even physical confrontations between Bob Fitzsimmons and James J. Corbett.
Hardcover: 464 pages, 63 photos and illustrations, 968 footnotes, bibliography, index, and appendix (containing a complete Fitzsimmons career record). $34.95
---
Preface: The Series Continues 4
1. Australian Boxing 6
2. The Underappreciated Middleweight 9
3. Fixing a Loss or Losing in a Fix? 32
4. American Appreciation 53
5. World Middleweight Champion 70
6. Testing the Heavyweight Waters 94
7. Exhibition Tour 112
8. Revenge 125
9. All Comers Exhibitions Resumed 148
10. Making the Challenge 156
11. Still the Middleweight Champion 172
12. Death and Delay 189
13. Boxing Versus the Law 213
14. The New "Champion" 230
15. The Championship Cloud 252
16. The Fix 266
17. The Fight After the Fight 309
18. Paving the Way, Predictions and Preparation 328
19. The Real Championship 374
20. The Films and the Controversy 401
21. Another Semi-Retired Champion 421
Appendix: Bob Fitzsimmons' Record 434
Bibliography 453
Acknowledgments 456
Index 458
REVIEWS
Tracy Callis review for the Cyber Boxing Zone.
---
Zachary Q. Daniels review for East Side Boxing.
---
John Griffin review for Ring Memorabilia.
---
Adeyinka Makinde review for East Side Boxing.
---
Excellent Addition to Boxing History !!!
I am a long time boxing historian and feel compelled to say that Mr. Pollack's book on the legendary former champion is outstanding. His exhaustive research and attention to detail have served to bring this old time champion to life. I learned much about Fitz along the way and highly recommend it to any boxing fan !!!
– E. Grant, book reviewer on Amazon.com
---
Simply brilliant!
Unparalleled research.
– A. Reader
---
A book worthy of a great champion
Adam Pollack is writing THE definitive book on each of the World Heavyweight Champions in terms of their in-ring work and the way that the press and the public viewed the men in their day. These books are pure history.
The book is very detailed with newspaper accounts of the fights and interviews with the fighters from the day (multiple accounts of each fight from the important newspapers of the day). Some very nice rare photographs are included as well.
In this book, we look at Bob Fitzsimmons, a man who was a masterful boxer and won the world title in 3 weight classes (middle, light heavy and heavy) back in the day when doing this really meant something.
I will advise that the reader who is looking for the normal biographical accounts of the fighters (as in their family life, outside interests, any gossip etc) will be advised to look somewhere else. The author generally sticks to the training and the fights when discussing Fitzsimmons with minimal background (to be fair, we are talking late 19th century so difficult to get good honest accounts). In my opinion, this makes the book better as it is essentially pure boxing talk.
Very impressive effort by Mr Pollack, am looking forward to the rest of his books which are sitting on my bookshelf!
– Peter
---
CONTACT THE AUTHOR
Questions or requests regarding any of the publications on this site?