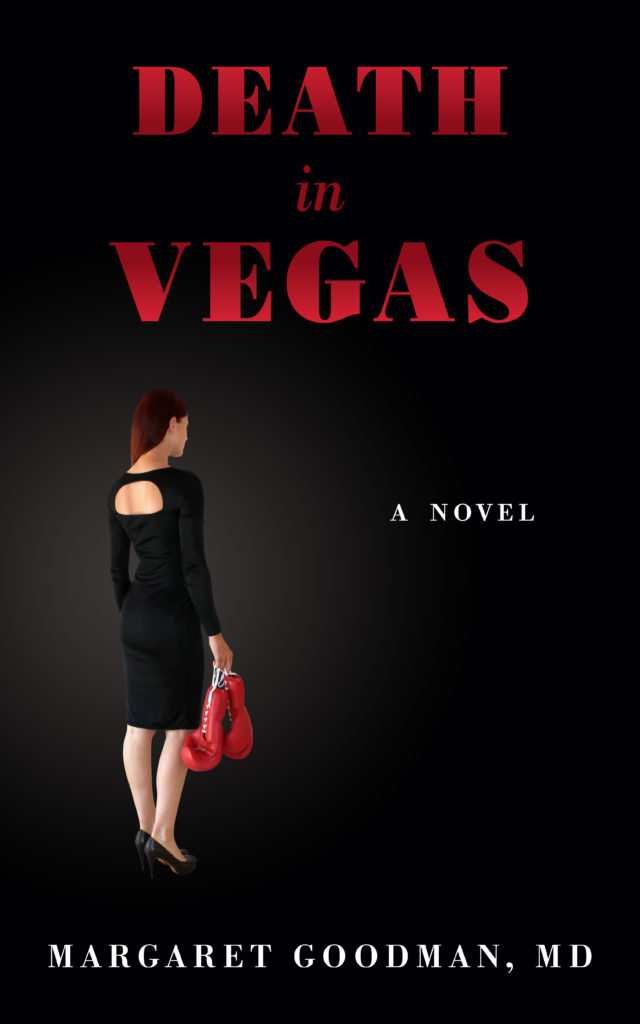 Death in Vegas
by Margaret Goodman
Win By KO Publications is proud to announce the release of DEATH IN VEGAS, a novel by esteemed former Nevada fight doctor, Dr. Margaret Goodman.
DEATH IN VEGAS, a medical suspense novel, is part Million Dollar Baby, part Rocky, and a bit Erin Brockovich.
Dr. Olivia Norris takes on the mostly male world of Las Vegas boxing power brokers. Olivia is a brilliant, attractive Chicago neurologist, married to her work, admired by her colleagues, and estranged from her family. When her brother, a rising boxing star, is tragically injured in a championship prize fight, Olivia swoops in to uncover what went wrong. Did Curtis's bout go on too long? What injuries did he suffer and why? Did the ringside physician give him appropriate care? Is the hospital doing everything they can for him?
Her search for answers forces Olivia to reconnect with her family. She uncovers secrets from her past that have a powerful impact and inspire her to dig even deeper into the dark world of performance-enhancing drugs.
To find the real truth, she travels to Mexico with the handsome, former ringside physician Dr. Bart Rossi. There, they find themselves attracted to each other, while also uncovering the dangerous, illegal side of boxing. Before she can return home, Olivia realizes that her determination to find the truth could kill her and her new friends too.
Both mystery and romance, DEATH IN VEGAS is a page-turner that offers a unique perspective on sports from an insider -a former ringside physician who is an outspoken advocate for boxers.
About the Author
Win By KO Publications is pleased to announce that Dr. Margaret Goodman has been elected to the International Boxing Hall of Fame.
Margaret Goodman, M.D. is a Las Vegas neurologist, former chief ringside physician for the Nevada State Athletic Commission, and founder and chair of the Voluntary Anti-Doping Association (VADA), a non-profit organization that has tested Manny Pacquiao and numerous other fighters for the presence of performance-enhancing drugs. She has appeared on HBO, Showtime, ESPN, ABC, and Fox; written for ESPN.com, SI.com, and Aol.com, among others; and had a monthly column in The Ring Magazine for eight years. She won The Boxing Writers Association of America's James J. Farley Award "for honesty and integrity" in boxing, and in 2012, HBO's The Fight Game named Dr. Goodman boxing's "Person of the Year."
You can learn more about Dr. Margaret Goodman at her website: www.margaretgoodmanauthor.com
FB: Margaret Goodman MD – Author, twitter: @MGoodmanMD
CONTACT THE AUTHOR
Questions or requests regarding any of the publications on this site?