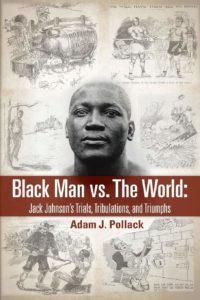 Black Man vs. The World: Jack Johnson's Trials, Tribulations and Triumphs
by Adam J. Pollack
Black Man vs. The World Jack Johnson's Trials, Tribulations, and Triumphs, by Adam J. Pollack, tells the complete story of Jack Johnson, the first black man to fight for and win the world heavyweight championship. In a thorough, detailed, and unique fashion, Johnson's life and fights are recounted based on multiple local next-day primary sources, archival documents, as well as a multitude of rare photographs, cartoons, and advertisements. You will follow his path from a poverty-stricken struggling unknown, to contender battling against the color line, lobbying for a title shot which he had earned but for his race, all the way to the championship, his reign, and the great efforts to find a white fighter capable of dethroning him. Throughout, both black and white-owned newspapers offer their plethora of perspectives and substantial context about race, both inside and outside of the ring, better enabling the reader to understand Johnson's struggles and symbolic significance both to whites and blacks throughout the world. Like never before, boxing fans, sociologists, and historians will obtain knowledge and insight into Jack Johnson's life and world from which he emerged and endured.
The book includes racial incidents, lynchings and riots, analysis of the significant racial impact of Johnson's achievements, religious and racial objections and arguments, and legal battles and obstacles Johnson and the sport of boxing faced, including fight film bans, his criminal trial for violation of the White-Slave Traffic Act (based on the actual trial transcript), and even battle for the right to defend his crown in England. This is a revised and condensed version of In the Ring With Jack Johnson: Parts I and II combined.
For more information, read this press release from Adam Pollack on his latest book.
The Washington Post: Boxer Jack Johnson Posthumously Pardoned
Purchase the book from these online retailers:
REVIEWS
Review by Vince Ciaramella at goodreads.com.
---
Review by Thomas Hauser in the May issue of The Ring.
---
Thorough, readable, enlightening, shocking, and poignant.
Will take you across the entire spectrum of emotion…at times a real page-turner. Well done Mr. Pollack!
– Diogenes
---
Jack Johnson is the man
Incredible and painful read. Such detail and very well written. Racism was all over the place and Jack Johnson was a great man. He needs to be remembered.
– Bruce D. Blue
---
Great book!
This is a great book to read even if u don't like boxing
The man, Jack Johnson, went threw hell but he still came up on top
This man shows u what a go getter can be
All this happened way back in around 1906 and onwords. The book even takes u back mind u from the day he
was born around 1895. Some of his problems were brought on by himself
Anyhow, read the book and maybe it will help u to be more of a go getter too, maybe.
– Gary Abrams
CONTACT THE AUTHOR
Questions or requests regarding any of the publications on this site?