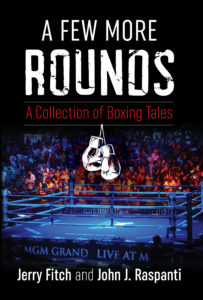 A Few More Rounds: A Collection of Boxing Tales
By Jerry Fitch and John J. Raspanti
A Few More Rounds: A Collection of Boxing Tales examines the sights, sounds, and assorted types that populate the fistic landscape.
The 20 chapters include unique stories from Fitch, who writes lovingly of his lifetime friendships with legendary fighters of the past, and Raspanti, whose prose includes instances of racism, hate, retribution, and loyalty.
Stories featuring Jersey Joe Walcott, Tony Zale, Muhammad Ali, Sergey Kovalev, and Andre Ward are included, along with personal experiences, insights, and memories from both authors.
The foreword is authored by famed former Ring magazine and International Boxing Hall of Fame member Nigel Collins.
REVIEWS
A delightful and entertaining love letter to the sport of boxing
The writing duo of Jerry Fitch and John J. Raspanti has combined to produce a book that can be compared to a beautifully executed one-two punch. Their latest gift to boxing fans is a delightful and entertaining love letter to the sport of boxing.
While each contributes 10 of the twenty chapters, both write from a very personal perspective. Over the years they have not only corresponded with some of the greatest boxers who ever lived, but have also developed lifelong friendships with many of them. The boxing careers of Tony Zale, Archie Moore, Jimmy McLarnin, Jimmy Bivins, Lloyd Marshall and Jersey Joe Walcott are well documented, but what both Jerry and John bring to the table are personal moments shared with these and other lesser known contenders and champions. The result is a revealing look at the family relationships, personalities and behavior of men who have chosen to compete in the toughest of all professional sports.
The book has a conversational feel to it, like having a beer with two very knowledgeable boxing historians who keep coming up with fascinating topics, and you're having so much fun you just don't want it to end. Chapters like "My Favorite Fighters", "Forgotten Middleweight Contenders From The 1950s", "Five Must See Boxing Movies" and "Memories Of The Olympic Auditorium" are among the potpourri of interesting topics that will leave you wanting more.
– Mike Silver
---
Worth Buying
I have read many boxing-oriented books over the years, some good and some bad. I have no problem recommending A FEW MORE ROUNDS because each chapter has stories that you have never heard before. Both of the authors are knowledgeable and write in an entertaining, yet informative manner.
– Bruce G. Kielty
---
One of the best books I have read
I have to say it was awesome and filled with some amazing stories and pictures!! A brilliant read, worth buying! Great read for boxing fans.
– Jeneva Warren
---
Papa Bomb Speaks
In A Few More Rounds, veteran fight beat writers, Jerry Fitch and John J. Raspanti deliver a walloping double whammy of old school insight into this twenty rounder of knockout boxing stories. Read about the ring greats of yesteryear, those sadly forgotten and those who never will be forgotten. Visit some places long gone (Southern California's legendary Olympic Auditorium) but forever alive in memory. Remember the great movies that defined the public's perception of what the fight game was all about, regardless of the fictionalization offered by Hollywood's creative screen writers. There's good times, happy times, sad times, and even some unlucky times but Fitch & Raspanti put it all together with admiration and respect for the fighters, who left behind pieces of themselves in so many the prize rings, not only for our entertainment but for themselves, while daring for greatness in an unforgiving sport. Enjoy the "rounds."
– Rita George
---
Thoroughly enjoyable short stories
Both Jerry Fitch and John Raspanti have been writing on boxing for years and have excellent books of their own. Joining forces, they do not disappoint in "A few more rounds." Jerry's stories are generally covering further back in time whereas John's are closer to the more recent fight scene which blends perfectly. As is often the case in boxing literature, the stories behind the fighters, the fights, the events etc; are just as thrilling as what goes on in the ring. Both Jerry and John tell their own personal experiences and tie it to their stories in a wonderful manner which makes for a wonderful read. I highly recommend this book to all boxing fans!! Great job guys!!
– Christopher Smith
CONTACT THE AUTHOR
Questions or requests regarding any of the publications on this site?